Activities in Dandeli
+ White water rafting
If you are fond of adventure, Dandeli is the place for you. There is a choice between a 9-km run that lasts for over four hours and a shorter run that is almost half the other, keeping in mind both seasoned rafters as well as amateurs.
You go upstream in a jeep first and then get basic how-to's of white-water rafting. Thereafter you are taken aboard an inflatable boat and the fun begins! While at places the water is calm, at other places it is everything but calm and you are sent plunging down the river. You are in safe hands since experts accompany you.
+ Rappelling
This is a high-on-action sport for those who are immune to 'Altophobia' or the fear of heights, or even those who wish to get over this phobia. You get to climb the steepest of cliffs and come careening down suspended by all but one rope!
One wrong step could mean trouble – may be not severe, but at least a few bruises and the likes. However, there is no need to worry since our experts take care of everything. Come into the world of rappelling on the stark rocky cliffs of the Sahyadri mountain ranges here at Dandeli.
+ Adventure trekking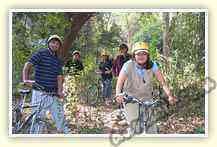 We take care to ensure that getting the permission from the forest department to go on your trek is made as easy as possible. The sanctuary is really vast and is a great place for adventure trekking.
It may be difficult to spot too many animals due to the thick forestation, but you might see a few Malabar Giant Squirrels and Bisons, and if you are lucky, tigers, panthers and several more. The variety of birds you can see here is excellent; Dandeli is especially famous its considerable hornbill population. The biodiversity you get to see in Dandeli is truly amazing.
+ Natural Jacuzzi in rapids
In today's day and age where all things natural are a fad, why leave a natural Jacuzzi behind? At Dandeli you get to experience this all natural therapy – a rejuvenating massage from the hosts themselves: the rapids of the river Kali. In order to witness this rare phenomenon you need to travel to one of the islands near Dandeli.
A short boat ride thereafter will take you to the premises where nature is at its therapeutic best. The random gushing stream suddenly seems to know how to custom create a unique massage session for you. Enjoy the massage thoroughly – it's free!
+ Bird Watching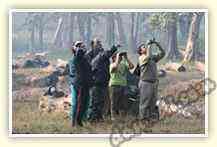 Most of your travelling within Dandeli is taken care by us so that you can make most of the bird sighting experience, you really do not need your own vehicle. Dandeli truly is the ornithologist's paradise.
Some of the varieties you get to see here are Magpie Robin, Bar Winged Flycatcher Shrikes, Blue Headed Ground Thrush, Pompadour Green Pigeons, Golden Back, Woodpecker, Yellow Browed Bulbuls, Cuckoo, Crested Serpent Eagle, Pied Hornbills, Jungle Babblers and many more birds. Our experts will make the trip very informative too.
+ Jungle Safari in open jeep
Take our Jungle Safari in an open jeep to soak up every bit of the rugged experience that is Dandeli. The main bird species here include Indian and a large variety of other birds and there is no better time to watch each of them in their natural habitat than on such a safari.
One of you may need to volunteer to walk ahead of the jeep to clear the way on a very foggy day. The thick vegetation and undergrowth in Dandeli makes it difficult to sight animals easily though they are present here in good numbers. Bison and a couple of Malabar Giant Squirrels are commonly spotted.
+ Kayaking
Kayaking activities are usually conducted in the Supa reservoir, which is a man-made reservoir that spreads over a huge area making it seem more like a sea. There are small islands in between where you can camp in absolute privacy since the entire area is un-inhabited.
For first time kayakers the experience can be slightly humbling for balancing the narrow boat, especially when you need to move in sync with another person in the boat – your instructor. Get set to paddle away to glory and have a lot of fun while enjoying this unique experience.
+ Canyoning
Conquering stark rock faces that loom to formidable heights is not for the weak-hearted. A variant form of rappelling called Canyoning is a rage in the Sathkonda Canyon near Dandeli. In this form of climbing down a steep rock, you also have lots of gushing water for company – yes, you will climb down a waterfall!
Rappelling down a waterfall gives that extra dose of thrill to this already exciting sport. You can either work your way down slowly or simply slip down to come crashing into the swirling water below. Safety harness in place, you can forget worries.
+ Moonlight Boat ride
This activity is not only for romantic couples on their honeymoon, nature lovers at heart can also engage in a moonlight boat ride to catch all the nocturnal jungle activity in full view. You need to have special accessories on you to completely enjoy this activity, like night vision binoculars so that their infra red view will enable you to see any warm blooded animal the way a serpent sees its prey!
Try not to make too much noise while on this trip so as to not disturb these co-inhabitants of our world. And hush! You might just alert a croc in hiding…
+ River Side Fishing
Dandeli is not only for the fast paced action loving heroes. For those who prefer to laze around in the soft sun and take it easy also will find ample scope for this here. After all, it was to take a break from the hectic daily routines that you came here – right?
Grab a fishing rod and some bait and head straight to our fisher's haven. The area offers ample opportunity in Mahasheer fishing. Don't think you will waste time waiting for a fish to get trapped, you will be tempted to let the fish go since you will be so immersed in bird watching instead!
+ Overnight Camping
Get a taste of being one with nature on one of our overnight camping activities. You will be tempted to wonder at how awesome life would have been in prehistoric times! Except for going hunting to catch animals for food, everything else will fall in place.
The barbecue will remind you of their rustic food habits; a tent for cover and an eerie silence in the pitch darkness, except for a shrill cry or a howl of the forest's original residents, namely wild beasts. The river Kali will pull you to her as if she had the power to mesmerize you with her mystical powers.
+ Croc Trek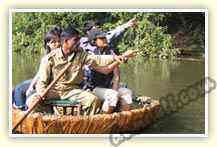 Feel the spine chilling shiver of adventure as you are tossed like a rag doll over the bubbling waters in the unique and sturdy native saucer-shaped 'coracles' that are made of bamboo and tanned buffalo hide. These are built especially to navigate these turbulent rapids in this area – being round they don't topple easily.
You are bound to be distracted from bird watching as you hear a loud splash ahead of you – you will need to strain yourself to discern a crocodile tail before it vanishes underwater. Do not despair; you will see lots more of them basking in the sun on the numerous islets dotting the river.
+ Nature Walks
It is the visits to adjoining places of scenic beauty that will cause you to stop and wonder at the beauty that nature is. As you take a nature walk through bamboo and teak jungles for hours without end, you will feel humbled by the insignificance of man in the presence of Mother Nature. The pleasant climate ensures the walk is not tiring at all.
Stop – can you get the distinct odor of fresh elephant dung? Watch your step; you might just be in close proximity to this huge but gentle mammal, until and unless it is a lonely tusker in the dreaded state of 'mast'....
+ Outdoor camping
Take a break from your tree house and take a chance at an outdoor camping activity; you are bound to be in a dilemma as to which option to continue with – so enamoring are both! While your tree home gives you a spectacular avian view of Dandeli, your outdoor camping stint will leave you craving for more of the soothing sound of the gurgling river Kali right beside you.
Since these outdoor camps are located on the river bank, you also get to peep out of your tent to catch a glimpse of birds that swoop down for a meal consisting of fresh water fish.
+ River Island visit
Tiny islets exist in the midst of the vast man-made Supa reservoir. You will soon find yourself surrounded by lush greenery, teak plantations essentially. The entire area is un-inhabited, which will prompt you to utter the famous lines, "I am monarch of all I survey….."
It will amaze you to think that such uninhabited islands do exist in today's day and age of population explosion! Organizing a camp on these river islands is one of the best things you can do; go for a walk and you might just come across your own private massage parlor - one of the natural Jacuzzis on these islands.
Excursions
+ Visit to Syntheri Rocks
Fell like a microscopic single celled organism in the presence of the 300 foot tall monolith of granite in the heart of Dandeli Wildlife Sanctuary called Syntheri Rocks. This is on the banks of river Kalindi, which is a small river that eventually merges into the Kali.
Its beauty is breathtaking which is accentuated by the small waterfall that gushes into a deep rocky ravine. Pigeons flock the nooks of these rocks and rock bees have built their hives well protected from the elements of nature, while mahasheer fish inhabit the waters below.
+ Visit to Cavla Caves
The route to Cavla Caves is often out of use since the slightest drizzle makes this path with an already rough terrain, a difficult one to tread. Once in the vicinity of these limestone caves that are said to have existed from the prehistoric times, you begin the descent by the seemingly endless steps into the darkest depths of the earth that house these caves; at the far end of the steps is a cave temple.
The stench of musty air and bat droppings hang heavily in the air and one must always be prepared to encounter snakes or bats who love to hang out here.
Tribal Experience
+ Visit to Tribal Village
Get a taste of tribal life by driving into the forest. Dandeli forest is home to several tribal communities such as the Siddis who are the African slaves who escaped from Portuguese custody 400 years ago and took refuge in these forests, and the Gowlis who are semi-tribal, nomadic grazers.
Their main occupation is to rear cows, and sell milk and milk products in order to make a living. They educate their young in the village's single school and live in simple and clean bamboo and straw huts. As compared to the Siddis, the Gowlis are closer to civilization.
+ Discover local villages
Visit the villages adjoining Dandeli and be charmed by their simple ways of life. Some of these are Anshi, Gund, Shivapura, Barade, Karsingal, Nujji, Patoli, Phansoli and Kulgi among others, which are all located within the wildlife reserve.
It is commonplace for local conservation activists and forest department authorities to conduct nature camps for the residents of these villages so as to educate them on the importance of conservation and protection of wild life. This is a more effective way to keep anti social elements away and protect our natural reserves.